The last time we tuned in, we were enjoying the garden of "Ghaleon's The Grindery™: Brought to you by Taben and The Vile Tribe." We spoke with some pixies and VeeTeetians who had the now typical spread of opinions that ranged from Ghaleon being a strong leader who will crush us, to Ghaleon isn't a great guy, to Ghaleon sucks.
Further up the tower we finally arrived at a sealed door that even Kyle's thieving skills could not help us get through. (There's no key hole! The only way a thief can break into a place through a door is if that door has a key hole. Everyone knows this.) The group is dismayed until Cool Lady Phacia phases into being. She's not looking well, but refuses any healing from Jess. All it takes is "Althena, lend me your power!", but okay.
I'd like to take a moment to state that refusing to seek aid is its own form weakness. We're all on this blue dot together. Don't help others and refuse help for yourself. Don't be Phacia.
Perhaps she felt it was some form of a deserved penance. Whatever the case, she explains how she's come to regret the actions of the Vile Tribe against Althena and the humans. Phacia feels that while Althena's punishment was harsh, Ghaleon never had the interest of the Vile Tribe in mind and was only using them. The VeeTeetians would have bee better served by trying to living in Althena's good graces and earning their way back into her blessings that way. She then uses the last of her strength to open the doors and face down her two sisters while we go to stop Ghaleon. I poured one out for Phacia. She seemed like the distant relative at the family reunion who you actually enjoy spending time with. You don't have a lot in common, but they're good people where it matters.
We make it to the top of
The Grindery
, where we fight Ghaleon. It's a pretty straight-forward fight where the group kicks Ghaleon in the beanbag very hard. Repeatedly. It was.....it was hard to watch. The group puffs out their chests and celebrates their good fortune.
Based on that, we know this isn't the real fight. After Ghaleon disappears, we run further out on to the veranda (The Grindery is seriously fancy, guys.) where we find Luna. It very quickly becomes apparent the Dragon Master's saga is far from over when this happens.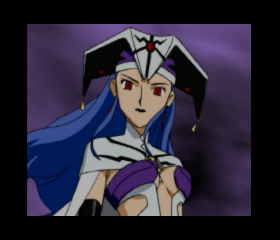 Sooooo.....that's no bueno. One of the rules of this world I've observed is the less clothes a lady wears, the more evil she is. Evil auras deteriorate clothing in this universe. Lots of layers, good lady. Lots of skin, bad lady.
This new character, I'm calling Dark Luna for now, rounds out the trio for Royce and Xenobia in a way Phacia never did. She proceeds to use a magic force to pimp slap Alex sixty feet across the veranda. From there, it's a confident strut in her thigh high dictator boots over to the edge of The Grindery, so she can begin the next step in Ghaleon's Evil Plan™.
The gang watches in terror as Althena's tower slowly and catastrophically rips itself from the planet, gradually revealing a massive fortress/spaceship that makes The Grindery and Vane look pathetic. Remember when you had your Ninja turtles toys and you thought the sewer skate board you had was totally awesome? Then you went to the rich neighbor kid's house, and he had the whole sewer playset AND the Technodrome? I imagine is feels like that.
Ghaleon reappears next to Dark Luna. He looks taller and wider every time he shows up. The two snuggle in a completely snide, smug way. It's a weird trope reversal where it feels like the Chad goths are flexing on the poor Virgin jocks. The two make plans to leave for their new fortress where I imagine they'll make-out and bully people on the internet. Alex and company attempt to stop them. Cue Ghaleon fight part two.
Alex casts a spell that nullifies magic attacks on the party, and we set to work pummeling Ghaleon. I can already tell where this is going because he's just standing there. The first murder/death/kill magic attack Ghaleon does is completely negated by the spell, but I don't bother recasting it. The next time Ghaleon attacks he does approximately ALL the damage, and strolls off.
I'll stop for there, but we've gotten a little further.